My Blog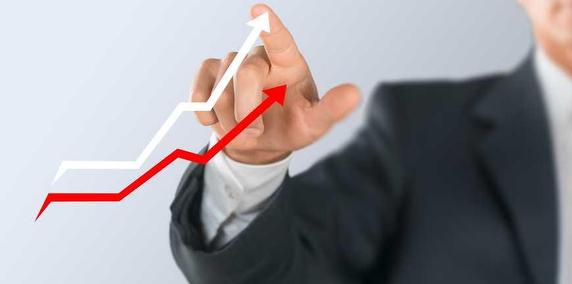 April Market Update
The Toronto market continues to be somewhat flat, despite single-digit growth. What is worth nothing: if no more listings were to come to market the available listing inventory would only last 2 months (sales to listings ratio) - which means that the housing and condo markets remain seller's markets in the core of Toronto. If we compare our stats to 2 through 5 years ago this is a much calmer market with slower growth but don't let the media headlines fool you, the downtown Toronto market is solid.  Note: the suburbs are a different story - this is very much a buyers market - the supply in some cases is far more than 9 months of inventory. If we were to remove the 905 segment statistics we would have a higher percentage value growth to demonstrate in our city's core.

Net takeaway: the core of Toronto is strong. You may find some "deals" here and there but don't hold your breath for these!

TREB Update

Greater Toronto Area REALTORS® reported 7,187 residential sales through TREB's MLS® System in March 2019. This result was inline with 7,188 sales reported in March 2018. For the first quarter of 2019, sales were done by one per cent compared to Q1 2018.

While March and Q1 sales remained relatively flat compared to last year, new listings have declined more so than sales. March new listings were down by 5.1 per cent year-over-year and Q1 new listings were down by 1.5 per cent.

"The OSFI stress test continues to impact home buyers' ability to qualify for a mortgage. TREB is still arguing that the stress test provisions and mortgage lending guidelines generally, including allowable amortization periods for insured mortgages, should be reviewed. The supply of listings in the GTA also remains a problem. Bringing a greater diversity of ownership and rental housing online, including 'missing middle' home types, should be a priority of all levels of government. TREB is happy to be taking part in the City of Toronto's consultations for the Housing TO - 2020-2030 Action Plan, and will certainly be raising the supply issue during these discussions," said Mr. Bhaura.

"While the City of Toronto's recently announced Housing TO - 2020-2030 Action Plan is exciting and commendable, and TREB looks forward to contributing solutions as a Member of the External Advisory Committee, the recently proposed increase to the Municipal Land Transfer Tax on higher priced properties is problematic. As the recent City budget process showed, the MLTT is not a sustainable revenue source from which to fund municipal programs. On top of this, additional MLTT on higher priced homes could have a trickle-down effect on the supply of homes throughout the housing price continuum," said TREB CEO John Di Michele.

The MLS® Home Price Index Composite Benchmark was up by 2.6 per cent year-over-year in March, while the average price for March sales was up by a lesser annual rate of 0.5 per cent to $788,335. The average selling price for Q1 2019 was up by 1.1 per cent year-over-year.

"Market conditions have remained tight enough to support a moderate pace of price growth. Despite sales being markedly lower than the record levels of 2016 and early 2017, the supply of listings has also receded. This means that in many neighbourhoods throughout the GTA, we continue to see competition between buyers for available listings, which provides a level of support for home prices," said Jason Mercer, TREB's Chief Market Analyst.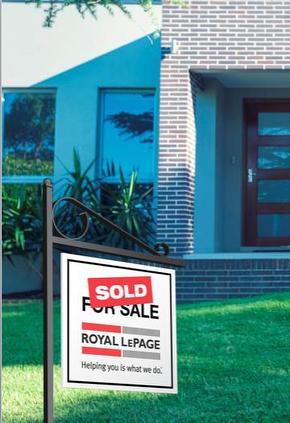 Getting Your Home Market Ready
Life is full of surprises. Just when you think you have your bearings, something comes in and changes your situation. Perhaps it's a job offer in a different city, or a situation with your family; in need of more space, or less space – and before you know it, you're seriously considering a big move elsewhere.  If you are in need of getting your home ready in time to hit the market in a short space of time, here's a cheat sheet to follow to help bring your home up to scratch.

Get the Lay of the Land
First things first: how much is your home valued? Research your local housing market to determine what kind of homes are advertised in your area and what prices they are listed at. Examine the comparable sales in your neighbourhood to better understand how much your home could feasibly go for. Once you have a rough number in your head, seek help from a trusted real estate agent. Their wealth of expertise will greatly help you with the process of selling.

Declutter and Clean the Home
Over the years we tend to accumulate a vast number of things you can categorize as "stuff". Getting rid of as much of this as possible will go a long way towards enticing potential buyers. It will give viewers of your home a better idea of the space they will plan to make use of. If there's a significant amount of possessions to sift through, rent out a storage unit while the home is on the market. Once this is done, give the house a deep cleaning. Anything and everything that you can think of (mopping floors, dusting surfaces, washing windows, between stair spindles) will offer the best first impression to prospective buyers visiting your home.

Repaint, Repair, Replace
Nothing makes a home feel fresh and replenished more than a new coat of paint. Not only will it give your home a new look and feel, but neutral colors like white and light grays will make rooms appear larger and allow interested parties to imagine themselves living there as opposed to considering another person's bold color choices. However, the functionality of your home is just as important as how it looks. Find a reliable handyperson who can come in and fix or replace anything that needs fixing. Sometimes all it takes is a faulty kitchen drawer or a door that doesn't shut properly to put viewers in a negative mindset. Have them leave in awe of how clean well maintained your home is.

Set the Stage
It has been proven in many studies that staging homes often leads to faster sales and higher prices. It also lets the viewer see how they can get the best out of the house. This starts from when they arrive at the home, such as cutting the grass, having the yard beautifully landscaped and the entrance welcoming. The interior should be as equally spruced up and tidied to perfection. Ask yourself how you would want to view a house for sale, and what aids can help enhance a room feature or take attention away from an imperfection. Your real estate agent is a great source of advice for this too. 

Depersonalize
This can be a hard one to wrap your head around; why would I want to take away the things that make my home a home? The thing is, the items that you believe set your home as yours are distracting for someone trying to project their own future into the space. Give them a blank enough canvas to work in without coming across as too soulless. So an abundance of framed photos, fridge decorations, or personal items that create a distinctive presence should be put away for viewers. However, strike a fine balance with a few nice photos and small touches that complement a room will make your home feel lived in and more inviting.

Whatever your reasons are to put your home on the market, I want to help you make it as smooth and as seamless as possible so you can focus on the things in life that are important to you. If you are thinking about moving, contact me today for a confidential consultation.
Getting your home ready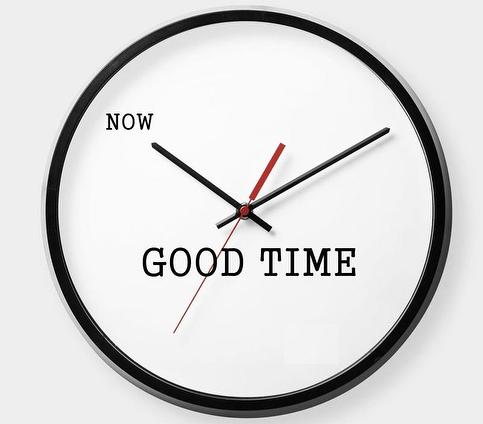 When is the Best Time to Sell?
Are you thinking about capitalizing on the real estate market but not sure if the timing is right? Well that depends. What's your next move?

If You're Trading Up 
Trading up is just that…trading your current situation for a better one. One that will improve your quality of life, get your kids into a better school district, that will impact your future wealth building, and allow you to live the future you have been envisioning. Many people underestimate the impact their home has on them; if you're ready to make changes but are holding back, make sure those reasons have a larger impact on your livelihood than what you would gain by making your next move. 
  
If You're Downsizing  
A majority of homeowners who are downsizing typically own a home at a higher price point than average priced homes (which have a bigger market and greater demand), so they tend to be less sensitive to market fluctuations. The sale price can therefore be far more influenced by a specific buyer.  
 
Downsizing is also regarded as a move motivated by significant life changes and lifestyle goals. Assuming there are no major corrections in market, the timing should be based on your goals and when the time is right for you to move on.   

Market Conditions
Think local. What is happening across Canada – even what is happening on the other side of the 401 – can be dramatically different than what is happening in your specific neighbourhood. As a general rule, Toronto's Central, Westside and Eastside neighbourhoods (think Etobicoke over to the Beaches and up to Sheppard Avenue) have proven to be resilient and insulated from much of the value fluctuations. 

How Can You Maximize Your Sale Price?  
There are a few key factors that will affect the value of your home and the sale price you achieve. 
 
Location 
Clearly this is one thing you can't change, but a proper comparative market analysis will ensure the right pricing strategy to drive the best offers. 
 
Features 
This you can control. In fact, my team and I are big believers in this and have built our approach around client care and providing that extra step – through advice on renovations, providing home staging, etc. – to help my clients achieve the greatest value for their home. 
 
Strategy & Negotiation 
Your home is typically your largest financial asset. Working with a trusted, proven professional does make a difference. How an agent prices the home, how they run offers, their relationship and strength in dealing with other agents, their knowledge of the market will ALL make a significant difference…to the tune of tens of thousands of dollars.   

What's your Why? 
Finally, have a good long think about your reasons…is the agent logical, emotional? I've guided clients through this conversation and sometimes the answer is to stay in their home. It's truly about your goals, priorities and comfort level. 

Thinking of selling your home? Contact me today for a conversation and / or a second opinion.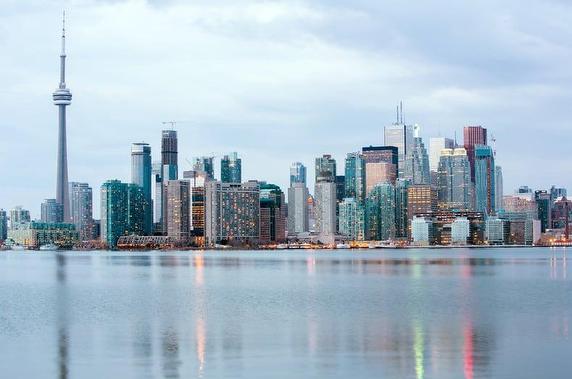 Toronto Neighbourhoods to Watch in 2019
Here are some of the best up and coming neighbourhoods in Toronto
Mimico
Mimico is one of the most underrated neighbourhoods in Toronto. Tucked away in southern Etobicoke, this neighbourhood begins south of the Gardiner down to the Humber Bay shores, east of Islington and west of Park Lawn. If you grew up in Toronto, you may fondly remember the area for its extensive "motel strip" that used to line the lakefront. Those lakefront properties are now lined with modern and sleek new condominium developments that are selling for as low as $400,000! If you want a lakefront locale with a 416 area code, why pay the luxury tax of living in a more populated neighbourhood when you can get equally outstanding views in Mimico?

Junction Triangle
While the name is new, the neighbourhood definitely is not. You may know the area as Bloordale Village, West Toronto or something else entirely, but the area west of Lansdowne that is bordered triangularly by three different railway lines encompasses the Junction Triangle (named in 2010!). This neighbourhood has undergone a huge revitalization wherein its former industrial core has since been renovated into beautiful residential lofts and townhomes. If you want to live close to High Park without paying High Park prices, but also want proximity to the Junction Gardens shopping district, then look no further than the Junction Triangle.

Rockcliffe-Smythe
The neighbourhood of Rockcliffe-Smythe zigzags through the northwest corner of Toronto where the Humber River and Eglinton Avenue east to Weston Road, south along the old York/old Toronto border until it finishes around the east-west Galt Subdivision railway line. If you are interested in a predominantly residential neighbourhood filled with lots of green spaces such as golf courses and parks, this is a neighbourhood that you need to keep your eye on. Both BlogTO and Airbnb have listed Rockcliffe-Smythe as not only one of the top neighbourhoods in Toronto to visit, but also the world! 

Yonge-Sheppard
This neighbourhood begins exactly where you think it does: in and around the Sheppard subway station. If you had any preconceived notions that north Toronto is entirely composed of suburbia, you should think again. The Yonge-Sheppard neighbourhood is often known as "the second downtown" purely because the condo development as well as commercial development is second only to Toronto's downtown core. The prices are very competitive for those who are seeking a downtown lifestyle, but who are not necessarily attached to the downtown core itself. The neighbourhood boasts amazing walk scores and is very TTC-accessible with only a 25 minute subway ride to the heart of downtown.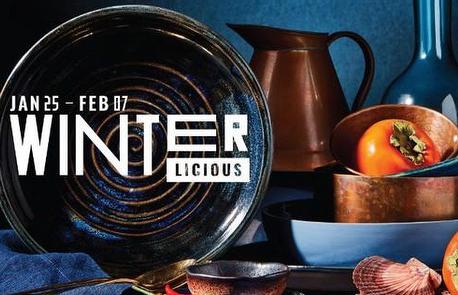 Five East Side Restaurants to Check Out During ...Winterlicious 2019
Toronto's annual winter food event, Winterlicious, is back for another season running from Jan. 25 - Feb. 7. Winterlicious will be showcasing nearly 200 participating Toronto restaurants, along with culinary events happening throughout the two-week-long festival. It's a ticket to discover newcomers to Toronto's food scene or just check in on old favourites at a discount.
Three-course prix fixe lunches at this year's event go for $23, $28 or $33 depending on the establishment and menu, while dinners will be $33, $43 or $53.
Here's a round-up of five east side spots to check out during Winterlicious.
1. MAPLE LEAF TAVERN -- Maple Leaf Tavern is offering a $43 dinner menu. View the Winterlicious menu. 955 Gerrard St. E mapleleaftavern.ca
2. CLUNY -- Cluny is offering a three-course lunch for $28 and a three-course dinner for $43. 35 Tank House Ln. clunybistro.com
3. WYNONA -- Wynona is offering a $43 three-course dinner menu. 819 Gerrard St. E. wynonatoronto.com
4. BOKU SUSHI -- Boku Sushi is offering a three-course lunch for $23 and a three-course dinner for $33. 42 Gristmill Ln. bokusushi.ca
5. Il Ponte -- Il Ponte is offering a three-course lunch for $28 and a three-course dinner for $43. View the menu.  625 Queen St. E ilponte.ca
Check out the Winterlicious Menus here: https://www.toronto.ca/explore-enjoy/festivals-events/winterlicious/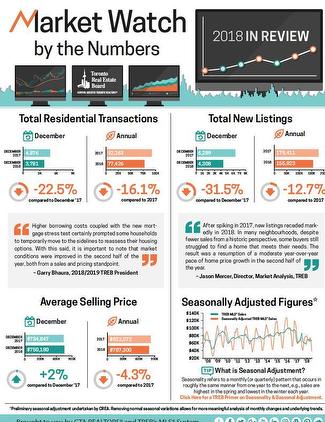 MARKET WATCH...December and 2018 Annual Statistics Released
January 4, 2019 -- Toronto Real Estate Board President Garry Bhaura announced that Greater Toronto Area REALTORS® reported a total of 77,426 residential transactions through TREB's MLS® System in 2018. This result represented a 16.1 per cent decline compared to 92,263 sales reported in 2017. Total new listings entered into TREB's MLS® System were down by 12.7 per cent over the same period to 155,823.
The overall average selling price for 2018 transactions, at $787,300, was down by 4.3 per cent year-over-year for all home types combined across the TREB market area.
Home prices were up very slightly in the City of Toronto and down in the surrounding GTA regions. This dichotomy reflects the fact that the condominium apartment segment, which accounted for a large proportion of sales in the City of Toronto, performed better from a pricing perspective than the detached market segment. The average price for condominium apartment sales across the TREB market area was up by 7.8 per cent year-over-year. 
"Higher borrowing costs coupled with the new mortgage stress test certainly prompted some households to temporarily move to the sidelines to reassess their housing options. With this said, it is important to note that market conditions were improved in the second
half of the year, both from a sales and pricing standpoint," said Garry Bhaura. 
"After spiking in 2017, new listings receded markedly in 2018. In many neighbourhoods, despite fewer sales from a historic perspective, some buyers still struggled to find a home meeting their needs. The result was a resumption of a moderate year-over-year pace of home price growth in the second half of the year. Price growth was strongest for lessexpensive home types, as many home buyers sought more affordable home ownership options," said Jason Mercer, TREB's Director of Market Analysis and Service Channels.

 
Source: http://www.trebhome.com/market_news/market_watch/